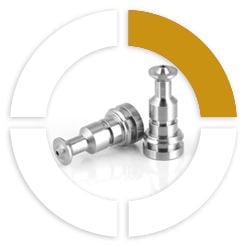 Challenge
A global heavy trucking component firm sought to remove currency risk and shorten their supply chain by returning critical assemblies to the United States. Corporate pressure was mounting after two "reshoring" attempts failed to achieve the necessary design tolerance.
Solution
Anderson Precision engineers and operators developed a five‐stage, turn‐key answer including:
Rebuilding existing equipment to provide adequate capacity and speed.
Integrating temperature controls to hold tolerance.
Innovating a part cradling conveyor to minimize nicks or scratches.
Collaborating with and auditing the post‐manufacturing coating supplier.
Developing custom packaging to protect the parts and ensure they arrive safely and rust‐free.
Results
The client achieved their objectives and realized unexpected cost savings.