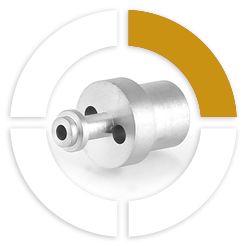 Challenge
A tier 1 automotive component manufacturer was struggling to meet a key customer's quality expectations due to an underperforming powdered metal component. The firm needed a precision-turned metal part that did not impact their global price competitiveness.
Solution
Anderson Precision's engineers helped redesign the turned part, doubling tolerance precision and eliminating the need for a costly secondary operation. We reduced costs further with an advanced production and quality process, enabling high‐speed equipment manufacturing. This process included:
24/7 dedicated primary and secondary operation equipment
Process control software and air gage dimension monitoring
Close subsupplier collaboration
100% optical inspection
Result
The tier 1 firm met their customer's quality goals, retaining the business and saving nearly $500,000 annually.